2022 Campaign Awards & Recognition
Top Performance Awards
Each year, we recognize individuals and teams who show outstanding leadership in their company's United Way campaign in the categories of small organization (under 150 employees), medium organization (151-499 employees), and large organization (500 or more employees).
Small Organization
Capital Credit Union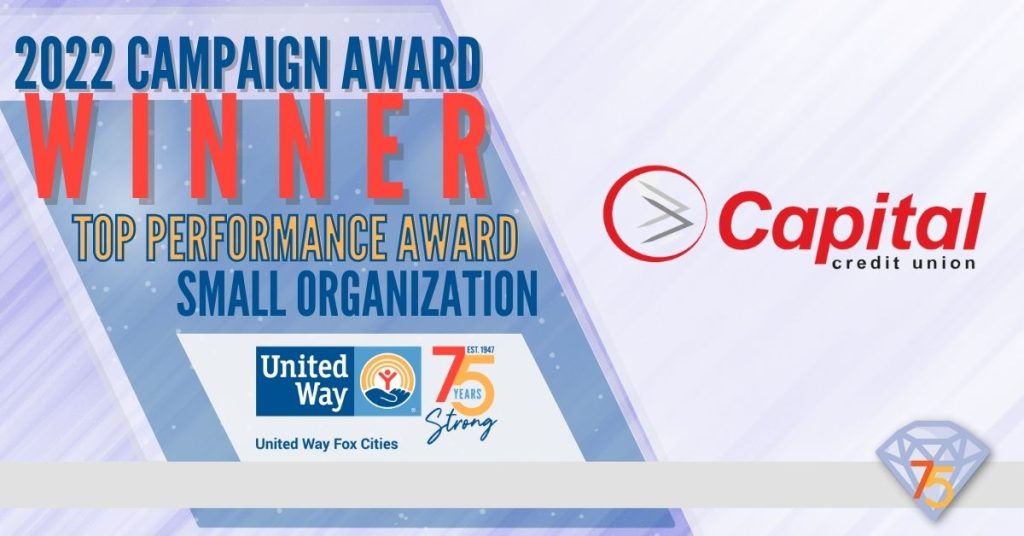 Capital Credit Union had an 835% increase in participation and an almost 900% increase in employee giving in the Fox Cities. We're excited to see this relationship continue to bloom.
Medium Organization
Bassett Mechanical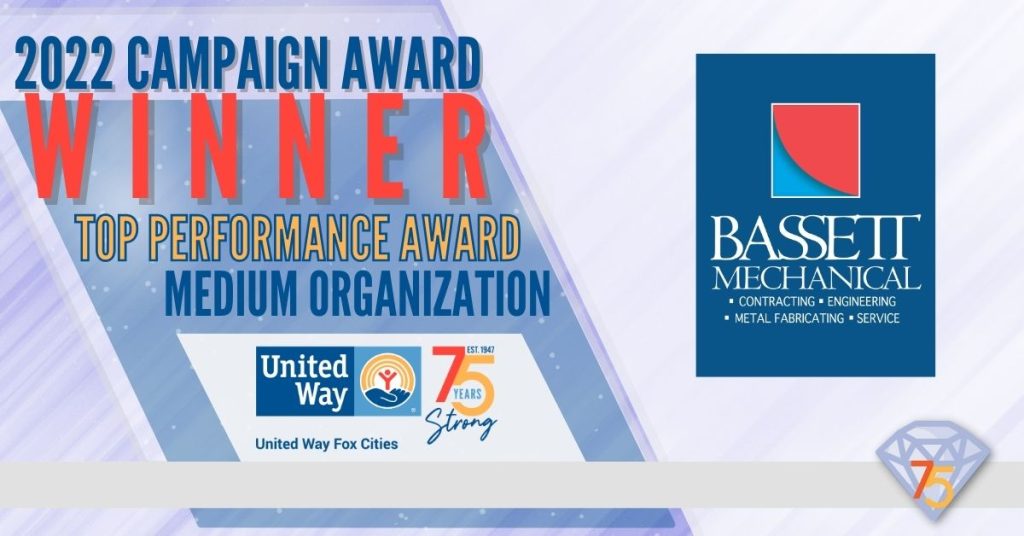 Bassett Mechanical increased the number of participants in their campaign by 54% from the 2021 campaign. We're proud of Bassett Mechanical's efforts. Not only did they run an incredible campaign, they exceeded their own expectations, raising over $111,000, up by more than 27% from the prior year.
Large Organization
Miller Electric Mfg. LLC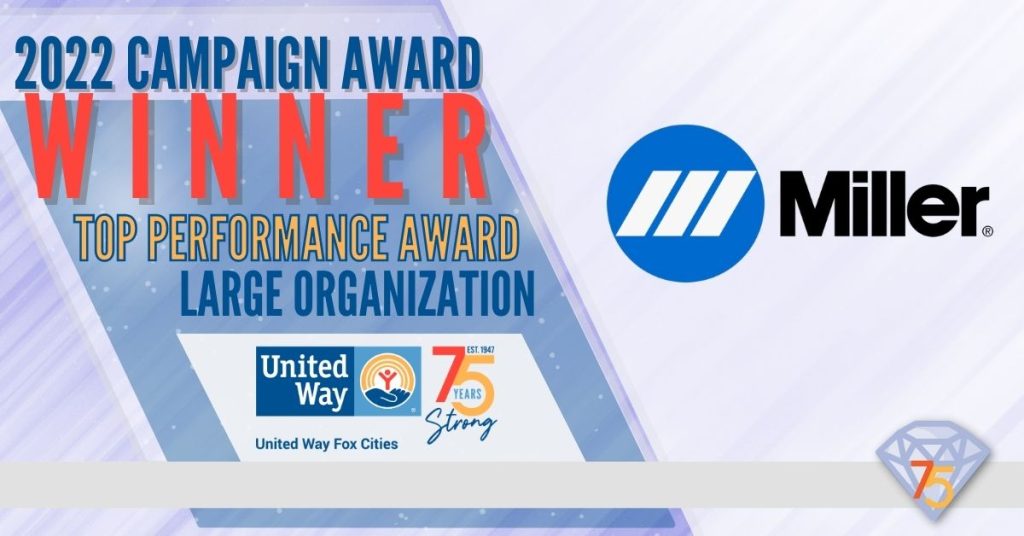 Miller Electric hit the $1 million-mark last year and outdid themselves this year, raising over $1.2 million. They wove education and awareness of United Way Fox Cities' work throughout the year by highlighting the impact of many of our partner agencies. Miller Electric invites United Way staff to join their monthly new-hire onboarding meetings to showcase the amazing, caring culture that Miller encourages in our community.
---
Kimberly-Clark Corporate Challenge Awards
Sponsored by Kimberly-Clark, these two awards are meant to inspire organizations in the Fox Cities by recognizing improved performance in two key measures that drive successful campaigns. 
Participation Award 
The Kimberly-Clark Participation Award honors the organization with the greatest increase in the percent of employees who made a gift compared to the previous year. 
Woodward Radio Group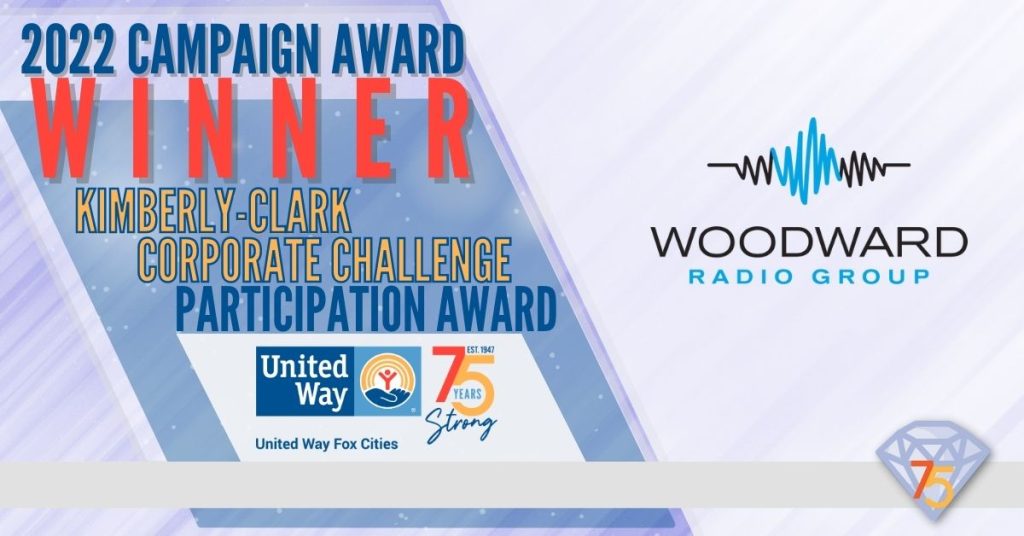 97% of Woodward Radio employees participated in their United Way campaign! More than tripling the number of people who gave the previous year. Woodward Radio worked extra hard to increase participation this year by providing education about United Way and creating excitement among their employees, leading to this astonishing increase.
Giving Award 
The Kimberly-Clark Giving Award honors the organization with the greatest increase in employee dollars raised.
Faith Technologies Incorporated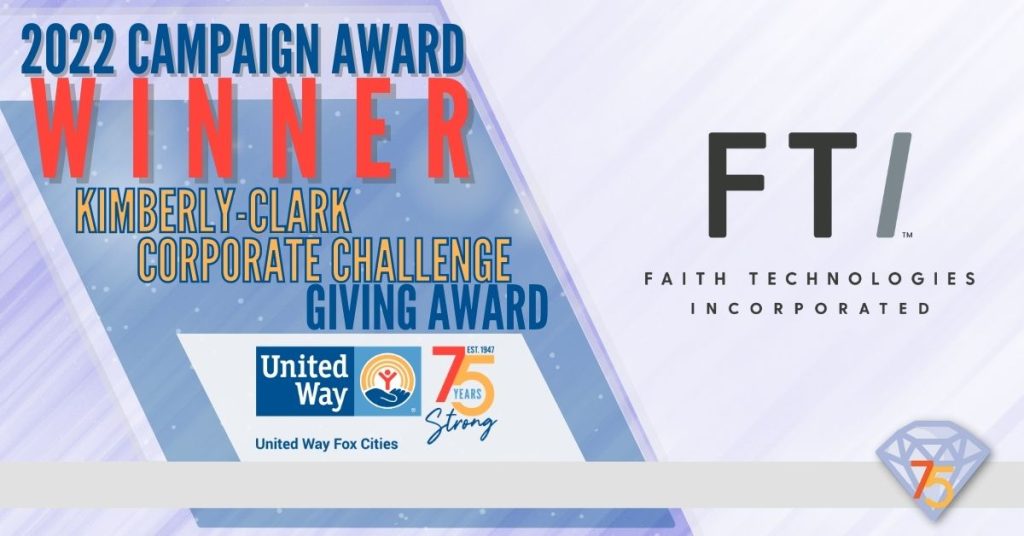 Employee giving at FTI increased this year due to the diligence of the campaign team thinking through every detail to ensure that they made the pledge process seamless for all FTI employees. They also provided education and awareness around United Way and this resulted in pledges totaling more than $57,000! 
---
Outstanding LINC Giving Award
LINC are people age 30 or under, who support United Way with a gift of $250 or more. The Outstanding LINC Giving Award is given to recognize outstanding growth in LINC giving within a workplace campaign.
Bergstrom Automotive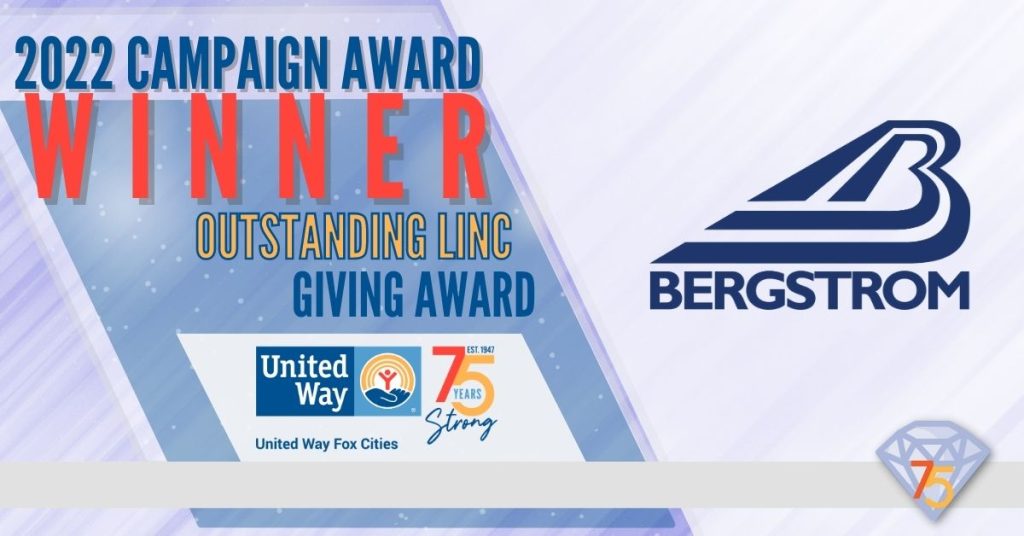 Bergstrom Automotive had an 83% increase in the number of LINC donors, which led to a 73% increase in LINC giving. Thank you for your dedication to the Fox Cities! 
---
Outstanding Emerging Leader Giving Award
Emerging Leaders are people age 40 or under, who invest in lasting change in the Fox Cities community. The Outstanding Emerging Leader Giving Award is given to recognize outstanding growth in Emerging Leader giving within a workplace campaign. 
Miron Construction Co., Inc.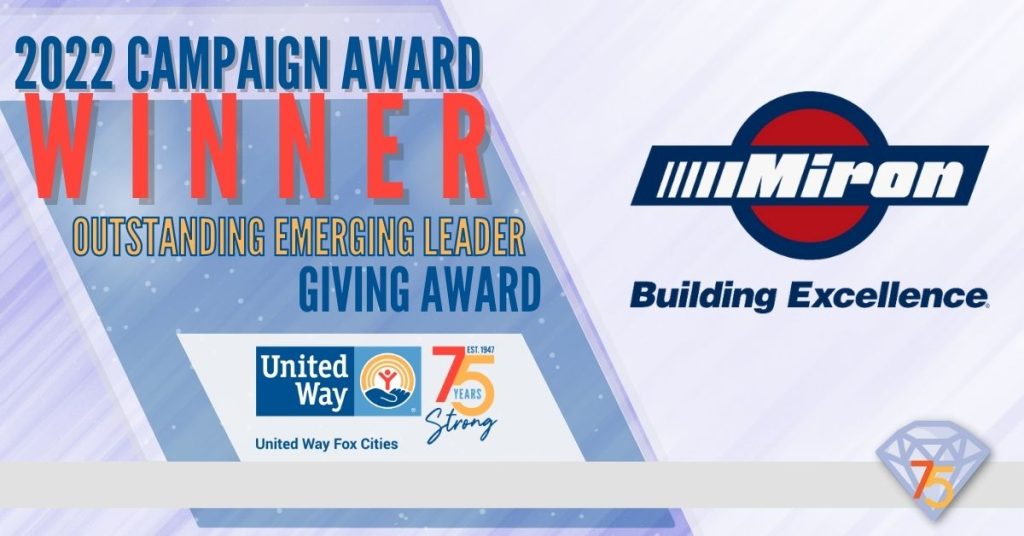 Miron Construction increased their Emerging Leader giving by 32%! The Emerging Leaders at Miron gave over $48,000 in their 2022 campaign. Well done! 
---
Outstanding Leadership Giving Award
Leadership Giving begins at $1,000. The Outstanding Leadership Giving Award is given to recognize a significant increase in Leadership giving within a workplace campaign. 
Menasha Corporation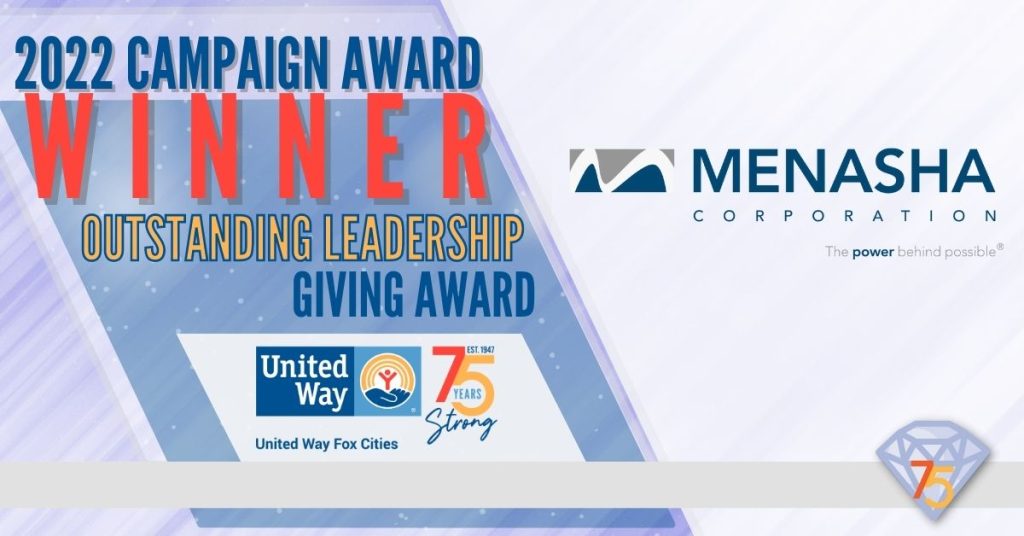 Menasha Corporation had another record year for their United Way Fox Cities campaign and provided opportunities for employees to engage in United Way's work throughout the year in fun and exciting ways. Menasha Corporation had 65 Leadership Givers who brought in over $100,000.
---
Sustained Excellence Award
The Sustained Excellence Award honors the company that demonstrates outstanding commitment to United Way Fox Cities year after year.
Alta Resources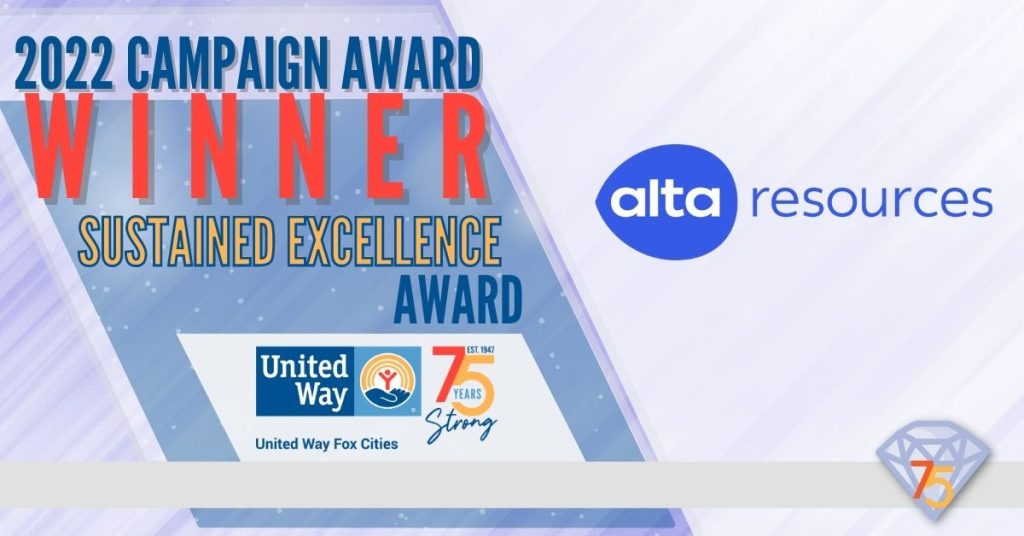 Year after year, Alta Resources challenges themselves to do more for our community. They provide education, awareness, and involvement opportunities to their employees and have proven that they live out the Guiding Principle of "Community". Alta Resources' partnership included sponsorship of United Way Fox Cities' donor networks. Thank you for your continued dedication, Alta Resources!
---
Excellence in Partnership Award
The Excellence in Partnership Award is a special award that is given to companies that have a strong partnership with United Way. These companies go the extra mile in their campaign to find new ways to grow their connection to United Way Fox Cities' work, their employees, and the community.
This award was created to highlight our incredible partnership with Kimberly-Clark and VPI, Inc. with the creation of the Fox Cities Diaper Bank.
Miron Construction Co., Inc. and The Boldt Company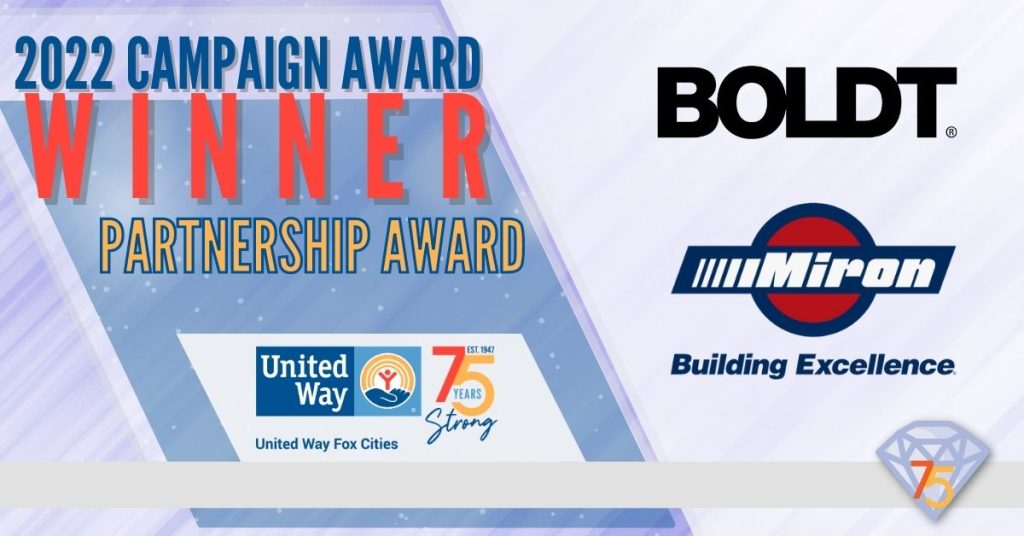 Bringing the remodeled diaper bank to life required community collaboration, which is exactly what Miron and Boldt displayed.
This past year, we were proud to unveil The Hub, home of the Kimberly-Clark Diaper Bank. This new space wouldn't have been possible without the many organizations that have supported this project. Thank you to Boldt, Kimberly-Clark, Miron, VPI, and all who have made this possible.