The Community Alliance for Trauma-Informed Care has a new website! Click
here
for their new site or visit their
Facebook page
.
The Community Alliance for Trauma-Informed Care developed from a group of 12 organizations that began convening in 2016 as part of a POINT/Basic Needs Partnership action team, chaired by United Way Fox Cities. Since its inception, the Alliance has developed into a network that has brought transformation and growth to its founding members and to countless other organizations within the region.
Vision
Organizations in northeastern Wisconsin are transforming their cultures so all people in the region are treated with and experience the empathy, safety, respect, and compassion they need to thrive.
Mission
The Community Alliance for Trauma-Informed Care supports organizations with adopting and implementing trauma-informed care principles and practices through community engagement and training.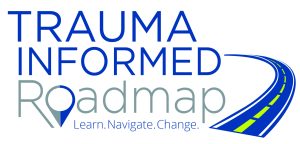 To create the Trauma-Informed Roadmap, several local agencies assembled important principles, elements, and activities to becoming trauma-informed, based on a review of the current literature and existing models. The intent of the Roadmap is to give organizations interested and willing to start the important journey of becoming trauma-informed a compilation of resources and assessments to advance in those efforts.
DISCLAIMER: This is not a complete guide of how to become trauma-informed. The Roadmap represents our best effort at a compilation of existing practices and resources along with our ideas on how to become more trauma-informed. It is, by no means, exhaustive.
Download the Trauma-Informed Roadmap toolkit
The free, downloadable toolkit includes:
Overview (PDF)
Organizational Readiness Self-Assessment (Excel)
Five Trauma-Informed Principles Assessments (Excel)

Questions? Contact Tenley Koehler – Director, at tenley@communityalliancefortic.org
About the Trauma-Informed Roadmap
History
In February of 2016, United Way Fox Cities convened twelve other agencies to work on implementing Trauma-Informed Care community-wide. The Trauma-Informed Roadmap Team had a vision for the Fox Cities that, "Everyone in our community is treated with compassion and respect, which allows them to thrive regardless of circumstances."
Trauma-Informed Roadmap Principles
Using the continuous improvement model, representatives from the twelve organizations identified five common principles of Trauma-Informed Care:
Safety
Screening, Assessment & Service
Empowerment & Collaboration
Trust & Transparency
Organizational Culture
The Trauma-Informed Roadmap Team created and tested assessment tools for each principle, developed an educational PowerPoint to help introduce Trauma-Informed Care to an organization's board, staff and volunteers and created an introduction/overview to help guide the implementation process. They also created an organizational readiness self-assessment tool.
All materials developed through by the Trauma-Informed Roadmap Team are free of charge and can be used by any organization wishing to implement Trauma-Informed Care.